The Pros and Cons of Orange County Roofing Materials
Until you build a custom home or re-roof your existing home, you might not even think about all the types of roofing materials that are available today. But take a cross-country road trip through America, and you'll see many different types of roofing materials - metal, asphalt shingles, clay, cedar shake shingles, and more.
Orange County homes can use any of these types of roofs, but before you choose your ideal roofing material, you need to know the pros and cons of all of your options. Here are the pros and cons of the most common Orange County roofing materials:
Asphalt shingles: Because they're easiest to install, about ¾ of American roofs are covered in asphalt shingles. They come in a variety of colors, and they're less expensive than other types of roofing materials, costing between $50 and $150 per 100 square feet.
Shingles work with any architectural style, and give you plenty of options to choose from. Unfortunately, they're not very eco-friendly - in part because they don't last all that long. Your typical asphalt shingles last between 15 and 30 years. And in SoCal, the heat and sun exposure may break them down even faster than this.
Still, if you're on a budget or like the look of asphalt shingles, they can be a good option.
Wood shake shingles: Popular on the East Coast, wooden shake shingles are made from a variety of woods, from pine to cedar. Some, like the ones we install, are Class A fire treated, so they won't burn as easily as you'd think. But you do want to be sure your shakes are fire treated, especially in fire-prone California.
Shake shingles cost $100 to $165 per 100 square feet. They're relatively high maintenance, and the heat and dry air can cause them to split.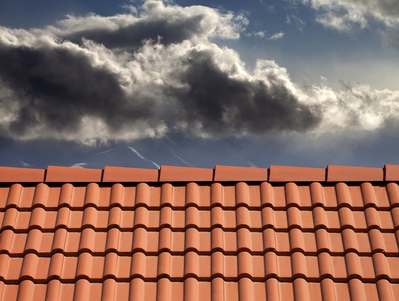 Clay and concrete tiles: A popular Orange County residential roofing material, tiles work well with the Spanish-influenced styles of homes here. But they're also a green roofing choice, and can be more energy-efficient than either asphalt shingles or shake shingles. Tiles can last for as long as 75 years, and come in a variety of colors.
Expense is definitely a factor for a tile roof, though. They can cost between $300 and $600 per 100 square feet. But keep in mind that you could regain that money in the long run, since these tiles will last much longer than either shake or asphalt shingles.
Slate: Slate roofs are one of the most expensive options, but they're gorgeous and will last basically forever. Slate is also easy to repair and easy to recycle, making it a very sustainable, green roofing option.
Slate roofing materials cost between $550 and $1,000 per 100 square feet, and slate can give your home a truly distinctive look. In SoCal, lighter-colored slate may better reflect the heat from your roof, giving you a cooler indoor temperature.
When it comes to Orange County roofing materials, you want to get something that will last and that will stand up to our hot weather conditions. Consider these popular options when choosing your new roof.
If you have any questions, be sure to reach out to Luke Roofing. A long-established Orange County roofer, we provide prompt, reliable expertise for every residential roofing need and situation. Wherever and whenever you need roofing services in Brea or anywhere else in OC, you definitely can count on Luke Roofing.