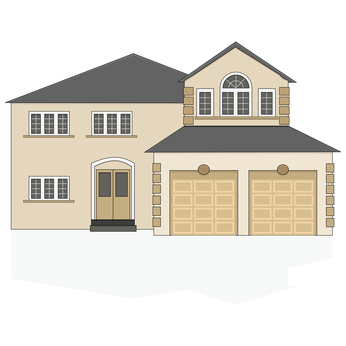 Most likely the ancient philosophers never asked: 'does a roof make the home?' Nevertheless, it is a worthwhile inquiry, especially if you're a homeowner. The answer is 'not entirely'. But a roof does count for a great deal, particularly if you value curb appeal. It makes sense, therefore, to make sure your roof is the absolute best it can be. An Orange County roofer can help you reach this goal by using the finest materials during repairs or replacements. Don't underestimate the importance materials. These make all the difference in the world when it comes to functionality, appearance, and durability.
In the lineup of excellent roofing materials, asphalt is still among the most common and the most popular. And for good reason. When Orange County roofers install asphalt shingles, they're using a material that is both rugged and reliable.
Homeowners should know, however, that they can choose from several types of asphalt shingles. The three-tab variety is the basic model. Lying flat, these are positioned in neat rows to create a beautiful symmetry. An Orange County roofing company also can install 'architectural' shingles, which are thicker than the three-tab alternative and are arranged in sturdy layers.
The type chosen will depend on homeowners needs and goals, of course. But don't rely on guesswork to determine the optimum choice. Consult a local expert for accurate answers. For instance, if you live in Laguna Beach, simply reach out to a Laguna Beach roofer. You'll get quick answers and expert advice all for the price of a phone call. All in all, a pretty good deal.
If you have questions about roofing materials, Luke Roofing can help. A long-established Orange County roofer, we provide prompt, reliable expertise for every residential roofing and commercial roofing need. No matter where you live in OC, you can count on Luke Roofing for reliable roofing solutions.