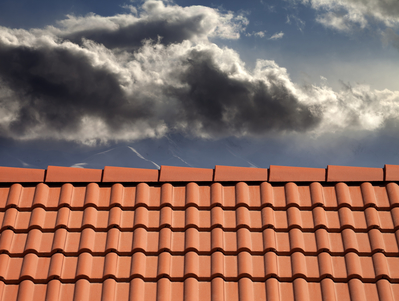 The best roofers in Orange County know a thing or two about clay tile roofs. After all, they're some of the most popular roofs around this area. They fit right in to the Spanish-inspired feel of many Orange County homes. But clay tile roofs can work well with many other home styles, too, and they have tons of advantages.
Getting ready to replace your tile roof, or thinking of a switch to tile from another type of roofing material? Here are some of the most frequently asked questions the best roofers in Orange County are asked regularly:
1. Isn't tile expensive?
Yes and no.
The answer to this question is yes because, on the front end, tile roofs are more expensive than their asphalt counterparts. Typically, concrete tiles cost about three times more than high-quality asphalt shingles, and clay tiles cost a bit more than that. This type of roofing is much less expensive than the increasingly-popular slate, however.
Three times more sounds like a lot! But hold up. Over their lifespan, clay or concrete tiles may actually be cheaper than asphalt. That's because a tile roof can hold up for decades - or even centuries. Some tile companies offer a 50-year warranty! And that's just the warranty. With proper maintenance (and a bit of weather-related luck) tile roofs can last hundreds of years.
Compare this to the average 15-20 year lifespan of asphalt shingles, and you can see that you could easily save money over the lifetime of owning your home. Plus, the superior durability and look of tile roofs may increase the value of your home.
2. Don't they only come in red?
The reddish clay color of tile roofs is quite prominent in SoCal, but it's not the only option for tile roofs. New manufacturing techniques let the best roofers in Orange County provide myriad options for tile colors. You could choose earthy browns, cool blues or purples, or even heat-reflecting whites or light grays.
With all the color options, roofing patterns are becoming more popular, too. You could design your roof with several colors placed at random or in a set pattern around the roof for a truly unique look.
3. Are tile roofs fireproof?
Sort of. Tile roofs have a lifetime Class A fire rating. This means that they aren't combustible, and they don't have to be periodically treated with chemicals to maintain that Class A rating (as some other roofing products might). While a tile roof certainly won't protect your whole home from catching fire, you can rest assured that stray sparks won't set your roof on fire directly.
4. Are they good for insulation?
Heat-resistance is one of the reasons that tile roofs are so popular here in California. The thick, curved tiles allow for some air space between the tiles and the actual roof. This air space means that less heat is conducted directly from the sun to the tiles to your roof and home. So a tile roof could reduce your air conditioning costs in the summer. A light-colored concrete tile roof that reflects the heat away from your home could increase this effect even more.
5. Will my home have to be made stronger to support a tile roof?
If you're considering switching from an asphalt shingle roof to a tile roof, you may be concerned about the extra weight of the tile. Doesn't it mean that you'll need to shore up the supports for your roof to keep it from caving in under those heavy tiles?
Not necessarily. Most buildings that adhere to local building codes already require very little extra support - if any. This is a very small cost in the average breakdown of costs associated with a tile roof. However, if you are really concerned with this, you may want to call the best roofers in Orange County for a consultation about this particular issue.
6. How long will the color last before it starts to fade?
Premium concrete and clay roofing tiles can have guaranteed no-fade colors for fifty years. If a non-fading color is essential to you, you may want to ask about those types of tiles. But most high-quality roofing tiles these days will guarantee their colors for quite some time - even in spite of the high sun exposure here in Orange County.
Colors are often added to the raw materials of the tile now, and then they may be further enhanced by a glaze on the surface of the tile. So even if the glaze begins to fade off, the color will be "dyed in the wool," so to speak, inside each individual tile, ensuring a beautiful look for years to come.
7. Are tile roofs difficult to maintain?
Not at all. In fact, this is one reason that tile is popular here in the western US. Asphalt shingles can be problematic under heavy sun and heat exposure, but clay and concrete tiles do not. All roofs require some basic maintenance, of course, including keeping the roof clean, inspecting for cracked tiles, and keeping the gutters running properly. But tile roofs don't require heavy maintenance to last for decades.
If you have any questions, be sure to reach out to Luke Roofing. A long-established Orange County roofer, we provide prompt, reliable expertise for every residential roofing need and situation. Wherever and whenever you need roofing services in Aliso Viejo or anywhere else in OC, you definitely can count on Luke Roofing.