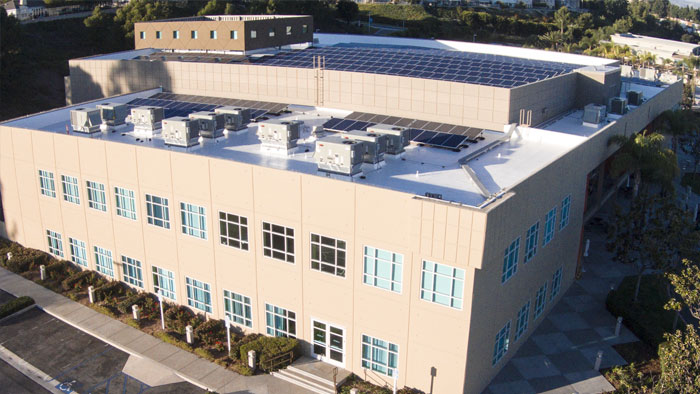 Commercial roofing presents specific challenges that we recognize and handle for you. We understand that your project has to be completed while minimizing the impact to your daily business. We will devise a plan to complete your roof while staying out of the way as much as possible. We will talk with you about your goals, and implement a plan to restore your roof while working around your business. Luke Roofing, Inc. has experience managing projects from Southern California to Northern California including 100's of units at a time.
| | | | | |
| --- | --- | --- | --- | --- |
| Commercial Roofing Services for: | Orange County | | San Bernardino | |
| | San Diego | | LA County | |
Local Presence
While there are many commercial roofing companies, hiring a company that has a local presence in Orange County, LA, San Bernardino and San Diego area is essential to quick response times and first hand on-site management. Our personal attention to your specific needs, time lines and budget is unparalleled. Each job is extremely important to us and we'll take the time to assist you with finding the best possible commercial or flat roofing solution for your specific situation.
Referrals
Most of our business is derived from repeat or referral business. The relationships we development with our clients are highly valued and maintained for years to come. You can expect more from Luke Roofing due to the time and analysis we dedicate to your specific roofing project. We'll help guide you through the process and we anticipate a great relationship to develop allowing you to confidently refer us to your friends or colleagues.
Warranty
When it comes to roofing warranties, a company has to "be in business" to warranty your commercial roof or flat roof installation. Luke Roofing has been in business since 1976 and due to our mission of "excellence" with regards to customer satisfaction and craftsmanship you can trust that we will be there to back up our warranty.



Our Work Force
We consider our workforce family. This unique value has resulted in better project management and a team environment encouraging respect and appreciation of our clients and the commercial roofing opportunities they provide. The services we offer are second to none no matter the size of the competitor. Our rates are competitive and the highest level of craftsmanship is consistent.
Budgets and Timelines
Budgets and timelines in the commercial roofing arena are critical. We understand deadlines and commit to doing everything in our power to come in on time and within budget! We are realistic with regards to our estimates which allow us to finish projects on time and in budget.
---
Commercial Roofing Products and Material Options (Partial)
Below is a quick summary of some of the products we use when replacing or repairing commercial roofs. Obviously each job will have different requirements and challenges and Luke Roofing has the experience and the desire to assist you in choosing the best solution for your specific roofing needs.

Certainteed has been in existence for more than a century and has been providing amazing commercial roofing materials for every job size. Here's a few of the product options and details shared on the CertainTeed website that we can help you decide between based on your specific commercial roofing needs.
Flintlastic® SA cap is the final layer of a complete commercial roof system. It's a premium roofing material made from SBS modified bitumen and is self-adhering. It's typically a great solution for low-slope roofing needs. This roofing solution meets and/or exceeds the Energy Star® compliance requirements with roofs with a 2:12" or greater slope. It also complies with the 2016 CA Title 24 Part 6 Cool Roof requirements.
SmartFlash® ONE is a seamless extremely strong polyurethane bitumen resin that specifically designed for asphaltic roofing solutions. There's no primers required or two-component mixing which expedites installation and allows excess to not be used later. SmartFlash® ONE also has a 20 year MFG warranty.
SmartCoat® is a combination of products that are specific to restoration. It includes roof wash, primers, coatings, reinforcing polyester, mastics and walkway solutions. SmartCoat® is designed to be used over an existing substrate and includes silicone and acrylic coatings that direct bond without any primer in most cases.

Firestone Building Products offers a long list of commercial roofing materials and products. Some of those products have worked so well that the formulations have not changed in over 25 years. Below is a list of some of their roofing systems.
EPDM Roofing Systems utilize a synthetic rubber compound called RubberGard™. This is a premium-grade roofing membrane that is flexible, durable and includes UV protection.
TPO Roofing Systems is promoted as a more eco-friendly solution. The performance and warranty coverage makes this a good and sustainable choice for many projects.
PVC Roofing Systems are considered reflexive roofing membranes. Their UV protection and waterproof heat-welded bonds make it a great choice harsh weather environments.
Asphalt Roofing Systems include the APP, SBS and Bur roofing solutions. Having this mix of solutions gives you one source for virtually all asphalt based projects.
Metal Roofing Systems by Firestone Building Products are focused on design, energy efficiency and ease of installation. They are extremely long-lasting and a good solution for a variety of roofing projects.

There's a number of reasons that IB roof systems have become so popular. The acrylic coated finish is highly reflective, very light, keeps the surface clean and helps protect it for a longer life. The top film includes compounds in it that keep it flexible in some cases for 30 or more years.
The IB Roof Systems also include an anti-wicking polyester scrim instead of the typical fiberglass materials that are not able to wick water away from edges. In this way the membranes are less likely to delaminate. The system is advertised on their web site as "Durable", as having the "Best Seam Welding Material", "Least Maintenance Roof Product", "Highest Quality Materials", "Longest Industry Warranties" and "Safest Fire Resistance".

Polyglass® manufactures roofing solutions for low and steep slope requirements. Their products include modified bitumen roofing, waterproofing membranes and roof coatings.
Their modified bitumen membranes offer great protection and roof life expectancy but are also environmentally friendly, energy efficient and UV-resistant. Another important consideration is the aesthetics and they don't fall short there either.
Their roof underlayments are self-adhering which make them a good solution for steep-slope roofing needs.
They also offer Roof Coatings that do a great job in many climates. These elastomeric roof coatings create a barrier against corrosive elements that can penetrate and damage roofs.
Polyglass® produces asphaltic roof coatings as well that are easy to install and can protect roofs from tears while improving reflectivity for better energy efficiency.
And last but not least they offer Kool Roof Solutions™. Focused on long term energy savings, protection and UV deterioration this solution reflects the sun and keeps the interior of your building cooler and saving on energy related costs. It's CA Title 24 compliant and is intended to extend the life of your roof.
---