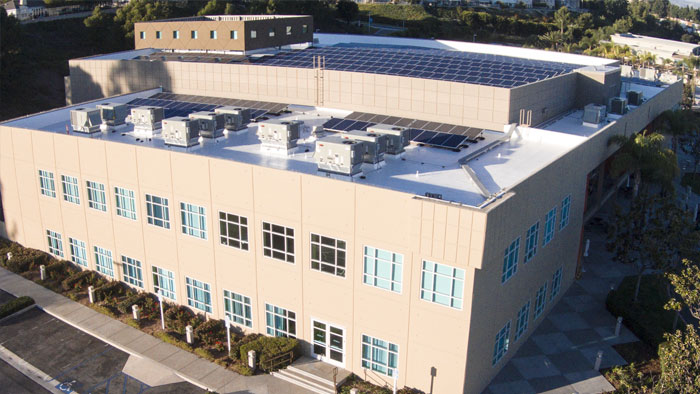 Commercial roofing presents specific challenges that we recognize and handle for you. We understand that your project has to be completed while minimizing the impact to your daily business. We will devise a plan to complete your roof while staying out of the way as much as possible. We will talk with you about your goals, and implement a plan to restore your roof while working around your business. Luke Roofing, Inc. has experience managing projects from Southern California to Northern California including 100's of units at a time.
| | | | | |
| --- | --- | --- | --- | --- |
| Commercial Roofing Services for: | Orange County | | San Bernardino | |
| | San Diego | | LA County | |
Local Presence
While there are many commercial roofing companies, hiring a company that has a local presence in Orange County, LA, San Bernardino and San Diego area is essential to quick response times and first hand on-site management. Our personal attention to your specific needs, time lines and budget is unparalleled. Each job is extremely important to us and we'll take the time to assist you with finding the best possible commercial or flat roofing solution for your specific situation.
Referrals
Most of our business is derived from repeat or referral business. The relationships we development with our clients are highly valued and maintained for years to come. You can expect more from Luke Roofing due to the time and analysis we dedicate to your specific roofing project. We'll help guide you through the process and we anticipate a great relationship to develop allowing you to confidently refer us to your friends or colleagues.
Warranty
When it comes to roofing warranties, a company has to "be in business" to warranty your commercial roof or flat roof installation. Luke Roofing has been in business since 1976 and due to our mission of "excellence" with regards to customer satisfaction and craftsmanship you can trust that we will be there to back up our warranty.



Our Work Force
We consider our workforce family. This unique value has resulted in better project management and a team environment encouraging respect and appreciation of our clients and the commercial roofing opportunities they provide. The services we offer are second to none no matter the size of the competitor. Our rates are competitive and the highest level of craftsmanship is consistent.
Budgets and Timelines
Budgets and timelines in the commercial roofing arena are critical. We understand deadlines and commit to doing everything in our power to come in on time and within budget! We are realistic with regards to our estimates which allow us to finish projects on time and in budget.