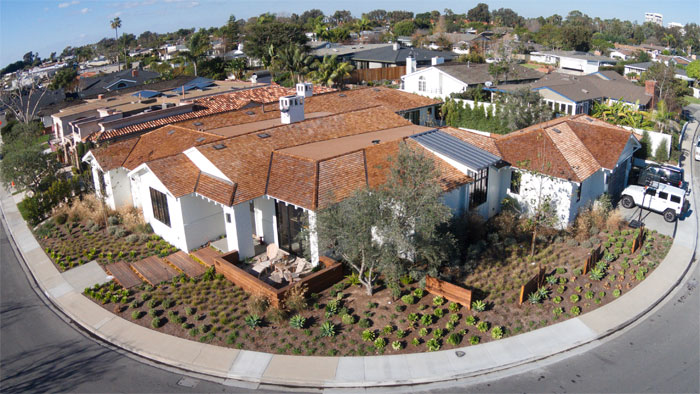 Luke Roofing, Inc. can handle any roofing project you may have. We are highly trained and skilled in residential and commercial roofing, and will handle your project with a professional attitude and attention to detail. We understand that your home is one of your most important assets, and we will treat your home as if it were our own. We pride ourselves on quality installations and we do not cut corners. To compliment your new roof, we can also install a high quality Rain Gutters to increase the value of your home and add functionality to your roof system.
Leading Warranty in the Industry

Luke Roofing is "Select Shingle Master" certified. This is the top level of CertainTeed roofing credential, and represents the highest standards of excellence, quality and knowledge in the shingle roofing industry. Only "Select Shingle Master" certified installers can offer you "SureStart PLUS™ extended warranty coverage. This is THE LEADING WARRANTY in the industry!

Life Time Material Warranty

Luke Roofing is a IB Certified Contractor. Only IB certified contractors are able to offer a Life Time Material Warranty on flat roofs.
Residential Roof Systems and Roofing Manufacturers
We offer a wide variety of high quality roof systems and industry leading manufacturers including:
Call us today if you need residential roofing.
---
Metal Roofs
Residential Roofing Manufacturers: Decra, Gerrard and Metro
Metal Roofing is becoming extremely popular. Over the course of the last 10 years there's been a 400% increase in the number of metal roofs installed on homes. There's a number of benefits of course including them being low maintenance, lightweight and environmentally friendly. Add to this that they are extremely durable with an average life expectancy of over fifty years and the added investment may make sense for your application. Luke Roofing has been installing metal roofs for decades now and have installation process down to a science. So if you're thinking about a metal roof replacement be sure to give us a call so we can give you the inside scoop.
Composition Roofs
Residential Roofing Manufacturers: GAF, Certainteed and Malarky
Composition roofs, also known as asphalt roofs have historically been the most common type of roofing since introduced in 1903. Asphalt roofs typically last up to 20 years or more depending on the location and environment they are installed. Asphalt roofs should not be used in every area of the country as the variables produced by weather that roofs subjected to may cause failure must sooner than expected. Typically, composition roofs are composed of two composite materials, organic and fiberglass. This makeup assists them in reducing air conditioning costs in the warmer months by reflecting light away from the home they are installed on. More recently, asphalts roofs are being created with many more colors and styles creating depth and texture that has not been historically available.
Concrete/Cement Roofs
Eagle, Monier, Hanson, Auburn, US and Delco
There are definitely different types of concrete roofs. The first is exactly what it sounds like, slab(s) of concrete or cement. Concrete is made up of three main ingredients, sand, cement and water. It's been used in so many applications as it's extremely strong, versitile, durable and doesn't burn. It's versitility is amazing. It can be one of the longest lasting roofing solutions there is as it's been know to last for over a century.
But typically for residential roofing systems, a concrete roof means you are using concrete shingles. Concrete shingles are some of the most durable roofing products in existance. When installed properly they can handle the harshest weather and winds of up to 180 mph. The even hold up to 2" large hail stones. Concrete roofing tiles blow by the freeze / thaw climate requirements as well with ease and typically remain aesthetically appealing for many years more than most other roofing solutions.
While the cost of concrete shingle roofing systems is higher, when you take into consideration how long they last the investment typically makes good sense.
Clay Roofs
Residential Roofing Manufacturers: Eagle Monier, Hanson, Auburn, US and Delco
Clay Roofs are created by molding clay into specific shapes that meet roofing needs and then baking the clay. By adjusting the temperature and time the clay tiles are baked it's possible to adjust the thickness and the texture of the roofing tiles to best meet the needs of the area and the look the customers would like. Additionally, clay tiles can come in a number of different colors as well. Some of the most common are white, yellow, orange and brown. The quality of the tiles can vary from manufacturer to manufacturer but clay roofing tiles are typically very durable and can last from 50 to 70 years depending on conditions. Clay tiles have been used for centuries and can be traced back to 10,000 B.C in China. Clay tiles are unarguably beautiful, but not a good choice for homes in areas that have fluctuating weather patterns.
Slate Roofs
Residential Roofing Manufacturers: American Slate, synthetic composite slate called Da Vinci
Slate shingles are a modern solution for a sophisticated and often artistic look for your home. Slate shingles are made from concrete so they offer some of the same advantages with regards to fire protection and require almost no maintenance. Incredibly, they have a life expectancy of up to 100 years. One of the few disadvantages of slate shingles is that they are heavy. It's important to know your homes framing was built to withstand the weight of a concrete roof. Some older homes cannot tolerate the additional weight. Slate tiles also do not hold up well when walked on. It's important with any roofing tiles that you fully understand what portion of the roofing tile can be walked on without breaking the slate roofing tiles.
Wood Roofs
Residential Roofing Manufacturers:
Sometimes called "Wood Shakes" or a "Shake Roof", wood roofing shingles were very popular early on in the United States. They are made by splitting logs and the size of them varies giving the roof an interesting and unique look. Wood Shake roofs do a great job in areas of the country that are known for extreme weather conditions and do an equally good job as a natural insulator. They can actually cut down your energy bills especially during the summer as you might be able to use your air conditioning less.
Wood roofs became less popular due to fire safety. Being wood, the risk was high especially if you live in a high fire-risk area. But more recently, as roofing technology is always improving, roofing manufacturers have added fire-resistant coatings that have helped immensely with the risk of fire.
Low Pitch Roofing Systems
Roof pitch is simply how steep your roof is. I.e. the angle of your roof. The pitch is calculated by the number of inches (or feet) it rises vertically for every 12 inches (or feet) it runs horizontally. So you might hear your roof be called a 4/12 pitch, meaning the pitch is 4 inches up for every 12 inches out.
A roof is typically considered a low pitch roof when the pitch is below 2/12.
There's many roofing systems that are a good fit for low pitch roofs. These systems are typically water proof due to the slower runoff of the low pitched roof. Luke Roofing has been assisting clients for years with solutions for low pitched roof systems. And while each roof and customer's needs are unique there are many different types of solutions including a number of membrane roofing solutions to consider.
Built-Up Roofing
Built-up roofing, or "BUR" for short, is best explained as having multiple layers of asphalt (bitumen) alternated with ply sheets (or felts) which are applied over the deck of a roof. Typically a BUR roof is finished with a top layer of aggregate, like stone or gravel. BUR is popular with flat or low sloping roofs because it creates a fully sealed surface area.
There's a number of different BUR roofing solutions. Some are install "hot", heated so that the solution is in liquid form, or "cold", where it might be sprayed or spread on with a squeegee type tool. The ply sheets are typically reinforced fabrics with fiberglass or other organic materials in them. Typically BUR roofing systems have a life-span of about 15 – 30 years.
Single Ply Roofing
Typically used on low-slope roofs, Single-Ply roofing solutions have become extremely popular! For years, BUR roofing systems (see above explanation), asphalt or coal tar was the go-to roofing solutions for low-slope roofs. But more recently single-ply membrane roof systems have become extremely popular. There's definitely not just one single-ply roofing solution that works in every case, there's numerous selections all with their own pros and cons. (TPO, PVC and EPDM roofing membranes and more) Let us help you in choosing the right single-ply roofing solution for your specific project.
Single-ply roofing solutions can be installed directly on the approved roofing surface reducing installation time and roofing material costs. The 3 most popular types of Single-Ply Roofing are TPO: Thermoplastic Polyolefin, PVC: Polyvinyl Chloride, and EPDM: Cured Ethylene Propylene Diene Monomer. It's important to hire a professional like Luke Roofing to assist you in understanding the best solution.
Insulation
Roofing Insulation is a layer installed under the membrane creating a thermal barrier insulating the inside of the building from the outside weather. Choosing the correct insulation can reduce the heating and cooling costs of your home immensely.
Title 24 roof systems
California's title 24 was created by a commission in 1978 with the objectives of:
Reducing energy costs
Decreasing greenhouse gas emissions
Increasing reliability & availability of electricity
Improving building occupant comfort
Reducing the impact on the environment
Enhancing sustainability by using materials with longer life cycles
Title 24, part 6 of the California code of regulations now requires residents in zones 10-15 to meet a minimum energy efficiency standard with "cool roofs" for California. Any replacement, recovering or recoating of the exterior surface area or 2,000 feet of the existing surface may activate Title 24 requirements.
While this is not legal advice (check with your architect, lawyer and/or city and state regulators) Luke Roofing has a great deal of experience with Title 24 roof systems and would be happy to discuss your project with you and give you input that could help you to with these requirements.
Roof Coatings
Roof coatings are not for all roof types. However on some roof types you can extend the life of your residential roof by years with a simple roof coating installation. Most coatings are engineered to expand and contract with the roofing materials originally ensuring that the coating remains securely adhered to the roofing material in most weather conditions. Sometimes roof coatings can even reduce your energy usage and because you're extending the life of your existing roof you're reducing the amount of debris and resources that would be expended in a full replacement.
Call Luke Roofing today for a free estimate for your roofing needs today!