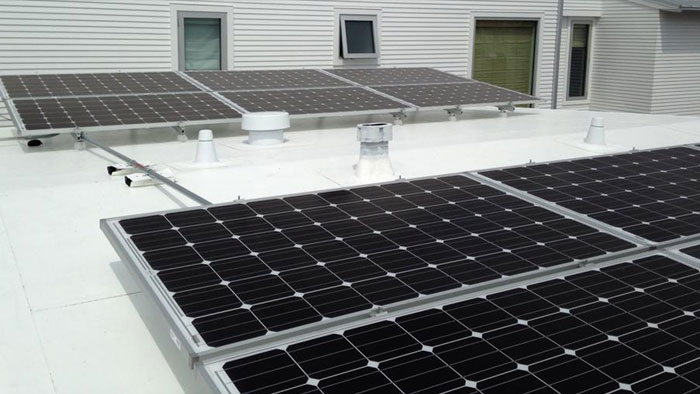 While solar energy provides a number of assets such as decreased energy bill and increased independence, there are difficulties. Fortunately these difficulties can be dealt with by Luke Roofing, Inc. handling your solar needs. We will provide you with a professional assessment, customized design, and most importantly, a "best financial option" plan for you. While you will benefit greatly from these, you will be most satisfied with the partnership of a roofing company and solar installation that warranties all roof penetrations which makes this partnership ideal.
California and Solar Power
In just one hour earth is showered with more power from the sun than the entire world uses in a year. Its free and waiting for you to harness it! California made a big commitment to solar power in 2006 by enacting the California Solar Initiative with a ten year goal of having 3,000 megawatts, equaling 1 million rooftops harnessing the suns power.
California's Renewable Portfolio Standard originally required that 20% of the state's electricity come from renewable sources by 2010. As the growth was slower than expected, in 2008 the "Feed-In" tariff was enacted which requires utility companies to buy back excess power produced by privately owned solar power systems and the Renewable Portfolio Standard was increased to 33% by 2020. Needless to say with the conversion going slower than anticipated federal, state and power provider rebates and incentives are at all time highs some as high as 30% of the total costs!

Highest Credentials Awarded to Luke Roofing
Luke Roofing has been awarded the highest credential offered as a Solar World authorized installer. After being audited by a nationally recognized 3rd party (Burnham), Luke Roofing received a perfect score!
Made in USA ensures Quality | Quality is our number 1 goal! And to ensure your Solar System is the highest quality possible, Luke Roofing uses materials made in the USA unlike many of it's competitors.
Easy Financing
Financing your solar power system has never been easier!
There are California initiative rebates based on your area and the solar system you choose and new financing options that are down-right amazing based on the area you live in.
Hero Financing | A new financing option that finances 100% of the purchase cost and installation of your solar system on eligible products. Hero offers low fixed interest rates and flexible payment terms including 5, 10, 15 and 20 year terms for most products and the payments are made through your property taxes making them completely TAX DEDUCTIBLE! Also, if the property is sold prior to complete repayment the balance can be passed on to the new owner.
Credit Unions offer a great deal of financing solutions and many have green lending programs that offer special rates and incentives as well. Contact your local credit union to discuss your financing options.
Purchase Directly | Buying your solar system outright makes a great deal of sense as well. With the return on savings accounts as low as 1% and recent volatility in the stock market, an investment in a solar system can pay huge dividends. The average return on investment on a Solar World system is between 8-10 percent. And because the average cost of electricity has historically continued to rise, it's a reasonable expectation that the return could even be higher.
Solar Panels
Solar panels are technically called "Photovoltaic Solar Modules". They are made by interconnecting solar cells trapping photon energy between layers of silicon wafers. The negatively charged electrons are then knocked loose from their atoms allowing them to flow through the semiconductors. Separate diodes and P-N junctions prevent reverse current and reduce the loss of power when some solar panels in the system are partially shaded.
This electricity is considered "DC" (Direct Current) as it flows in one direction just like car batteries. Typically the energy converted