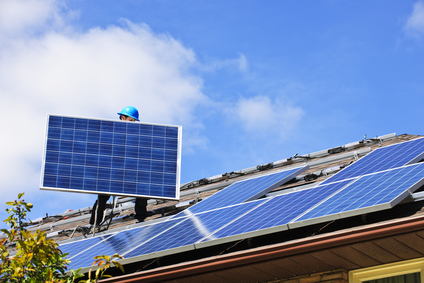 Are you considering installing solar energy in your home? How do you know if you're ready to make this investment? And how do you go about hiring the right company to install your solar panels? Here are five questions you'll want to ask yourself before you decide to install solar:
1.How much will it save?
Since savings is a primary reason that many people install solar, you'll want to look at how much it'll save you. If you're reading from Southern California, you're in luck. California residents can expect to save more than almost anyone else when it comes to solar power. One infographic puts the monthly savings of the average California home at $143. Even with the cost of installation, solar power could save you $34,260 over the life of your solar panels!
Savings depends, of course, on how much energy you currently use, how much solar you'd install, and a load of other factors. But you'll want to do some research here to figure out how much you could save with solar.
2. What rebates or incentives are available?
In California, there's tons of encouragement for installing solar. In fact, it's one of the cheapest states in the United States for installing solar. Rebates and incentives from the government - both state and federal - could save you up to 30% of the total cost of solar in your home!
One way to get familiar with available rebates and incentives is to talk with an installer in your area. The best Orange County roofing contractors who install solar will be familiar with the rebates and incentives that are available out there. Talk with a local contractor to get an idea of the availability of these options for you and your family.
3. How many panels could I install?
Here's another question you'll need to ask an experienced solar panel installer. If you can install enough panels to power your home - or even to push power back into the power grid to gain money from the power company - you may be better off than if your home is too small or too shaded for this option. Again, you'll want to ask an experienced contractor who has installed many solar panels and will know exactly how many panels you need, and how many you can install.
4. Is my roof in good shape?
You may be able to afford solar panels as it is. But if your roof is in bad shape, it'll need to be repaired before you can install solar. Since this would have to be done first, it adds an additional expense to the overall project So you may want to talk to Orange County roofing contractors about checking your roof for viability before you plan this project.
If your roof needs replaced or repaired before you install solar panels, you could do it all at once if you can afford it. If not, replace or repair your roof, and plan to install solar panels down the road, while your roof is still in good shape but when you can afford another major expenditure.
5. What are my reasons for installing solar?
Finally, ask yourself what additional reasons you have for installing solar - besides the obvious of saving money. If you're also into going green and benefiting the planet at large, you might be comfortable taking on a little more debt to finance your solar panels. If your whole goal is to save money, then be sure to check out financing options. Even if you have to finance the installation of solar, you may find that you save money while paying small amounts of interest on your financing.
It's important that you go through all these questions when deciding whether or not to install solar. Talk with people who understand the industry and your options. Talk with the best Orange County roofing company who has experience installing solar. They can offer some insight into the situation, and help ensure that you get the most bang for your buck when it comes to making the solar panel decision for your home or business.
Solar is a huge investment. But it can be one that'll really pay off over time. There's never been a better time than now to install solar, especially in California, where the government heavily incentivizes the installation of solar systems. And energy is much more expensive here, meaning your solar system will more quickly pay for itself and then put money back into your pocket.
If you have any questions, be sure to reach out to Luke Roofing. A long-established Orange County roofer, we provide prompt, reliable expertise for every residential roofing need and situation. Wherever and whenever you need roofing services in Huntington Beach or anywhere else in OC, you definitely can count on Luke Roofing.