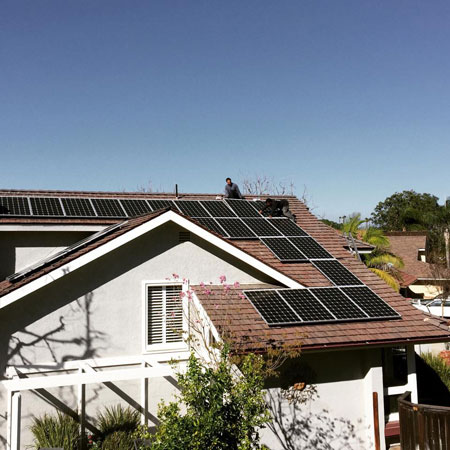 Considering installing a solar system in your home? As solar panels become more affordable and more efficient, more and more California homeowners are considering installing them. When you work with professional solar panel installers, you can get solar panels that look great and give your home the energy it needs to keep running.
If you're on the fence about installing solar panels in your home, just consider these five huge advantages of solar power:
1.They can power your entire home
It used to be that solar panels weren't efficient enough to power your whole home. They could just be used to offset your power needs. Now, even a home with relatively little roof real estate can be powered entirely by solar panels. In fact, tens of thousands of US homes in remote areas are powered exclusively by solar these days!
Even in your home that's part of the national power grid, you can use solar to exclusively provide your home's energy needs. This means that you can not only save money on your monthly electric bill, but that you might also be able to get an extra check from the electric company. To meet ever-increasing demands for power, some electric companies today will actually pay consumers who put more energy into the grid than they use!
2. They're low emission
Yes, it does take energy and cause some pollution when you create solar panels. But once they're up and running, they don't emit any pollution whatsoever. These self-contained systems simply take in energy from the cleanest source we've got - the sun - and turn it into energy you can use in your home.
And, again, if your home creates more energy than it burns with its solar panels, you can put more green energy out there for others. You can push this green energy back into the power grid, reducing Orange County's overall dependence on fossil fuels.
3. They're more affordable than ever
Better technology has made today's solar panels both more attractive - because they're much less bulky - and more affordable. In California, you can install solar in your home for an average cost of around $10,000. It's still a hefty up-front investment, but it's one that you can gain back in less than ten years. And today's solar panels should last for several years beyond that, at least.
You'll want to talk to local Orange County solar panel installers about your options, here. Obviously, your actual costs will vary depending on how many solar panels you want to install and how difficult it is to install them on the roof of your home. A professional will be able to give you a solid quote for this affordable energy option.
4. You could get a tax credit
Through 12/31/2016, homeowners who install solar panels or solar water heating systems can take advantage of a tax credit for up to 30% of the cost of the solar panels - with no maximum incentive. That's a pretty hefty credit to take advantage of!
For now, you'll have to install your panels by the end of next year to take advantage of this credit. The government may extend these renewable energy credits, but you never know. For now, if you're thinking about installing solar, you'll want to get on it.
5. It's better for everyone
For the most part, homeowners install solar panels because they want to save money. Orange County is one of the easiest places to save with solar, since the weather is sunny so much of the time. But solar energy isn't just better for you. By lightening the load on the energy grid, it's good for everyone who uses traditional power sources, too. And by reducing emissions, it's effectively good for the environment and the entire world.
All around, if you can afford the up-front costs, solar is a great investment. For one thing, you can gain an estimated $20,000+ in saved energy costs. But you can also invest in the future of California and the environment in general by investing in solar energy for your home. Solar power systems are a great way to bring the energy of the future into your present.
Installing solar panels is a big decision. That's why you'll want to talk with professional solar panel installers about your needs and expectations before deciding to go this route. Start with a conversation about whether or not solar is right for you, and then you can figure out how much it will cost to install solar in your home or business.
If you have any questions, be sure to reach out to Luke Roofing. A long-established Orange County roofer, we provide prompt, reliable expertise for every residential roofing need and situation. Wherever and whenever you need roofing services in Lake Forest or anywhere else in OC, you definitely can count on Luke Roofing.