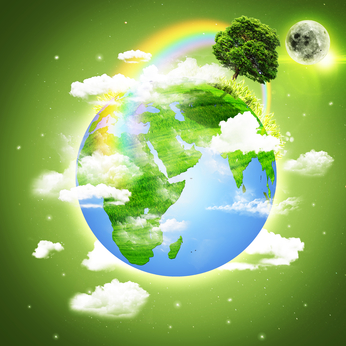 Environmental impact is a major consideration in all areas, home-improvement being one of them. Embracing the trend, many an Orange County roofer is blending eco-friendliness with professional services. Earth meets rooftop in perfect harmony.
It doesn't matter if contractors are doing a roof repair or full-scale replacement. More and more roofing professionals are taking major steps in a positive environmental direction. Happily, their commitment is paying off nicely. Thanks in part to their efforts, homes are becoming more energy-efficient and less environmentally intrusive. These benefits, of course, are accruing to homeowners in many ways.
When it comes to energy efficiency, an Orange County roofing company often relies on two proven options. The first focuses on roofing materials, the most popular being the coated shingle. As its name implies, this type of shingle features a special, energy-efficient covering. In this case, the covering is a layer of sunlight-reflecting granules. By deflecting solar rays away from the rooftop, the granules significantly reduce heat intrusion. Cooler homes are the natural result.
An Orange County roofer also may utilize a second basic option – the installation of a solar energy system. The energy-saving capacity of solar panels is well-known. With panel performance steadily improving, more and more homeowners are embracing the technology.
Choosing solar panels or energy-efficient shingles requires considerable evaluation. Every homeowner's situation is different. Which is why it makes sense to consult a local professional who understands your community and personal needs. If you hang your hat in Laguna Beach, for instance, ask a Laguna Beach roofer about your options. It's the best route to a sound, sensible decision.
If you have questions about energy-efficient roofing, Luke Roofing can help. A long-established Orange County roofer, we provide prompt, reliable expertise for every residential roofing and commercial roofing need. No matter where you live in OC, you can count on Luke Roofing for reliable roofing solutions.