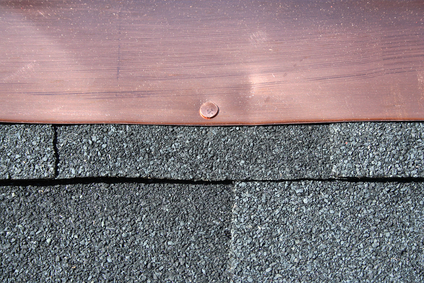 As part of your overall roofing system, you may not think about flashing much. But whether you're in for roof repair or full replacement, rest assured that your Orange County roofing contractor is thinking about flashing. It's an essential part of the weatherproofing system for your home, and should be used in more places than just on the roof. But as part of the roof, it's essential.
So what is flashing, and why is it so important? And how do you know if it's been damaged and needs repaired or replaced?
Flashing is a thin layer of waterproof material. It could be made from metal, which is traditional, or even from a plastic-like polymer material. The bottom line is that flashing can be moulded around edges and ridges, and will let water flow off of your roof.
Flashing should actually be used around all your windows and doors, and even around the attachments for your deck. Otherwise, these areas of your home can easily collect water underneath them, slowing rotting away your home's sheathing.
On the roof, flashing is used wherever your roof meets at an angle, especially a downward-sloping angle. It's also used around areas where something, such as a chimney, skylight, or vent, protrudes from your roof. These areas are all prone to leaks and standing water, so flashing in these areas protects your roof. In fact, when it's done right, flashing will direct water down the roof and into your gutter system, giving your roof long-term protection.
Without flashing, your roof will be much more prone to leaks. And if you've got damaged flashing from high winds or hail, you'll need to take care of it quickly.
Flashing deteriorates over time for many reasons. Some metal flashing can oxidize and rust, leaving holes or simply weak metal protecting your roof. If you think your flashing might be a problem, give it a look as best you can. Flashing that looks very weathered, rusted, or bent may be problematic.
Not sure if your flashing is on the fritz? Call your local Orange County roofing contractor to do an inspection. A quick inspection will tell your roofer if your flashing needs repaired or replaced, or if you've got other roof-related problems that need taken care of.
For the most part, flashing can be repaired unless it's in exceptionally bad shape. Professional roofers will cut their own flashing to match yours and will lay flashing over yours, or they may even patch up your existing patching, depending on the materials and damaged involved.
If your roofing company is going to reshingle your roof, chances are likely that they'll also wind up replacing or repairing some flashing. In fact, where flashing is installed over your shingles, it'll have to come off in order to lay the new shingles. So when you're getting a quote for renovating your roof, be sure to ask about the probability and costs of replacing your flashing.
When you are redoing your roof with new shingles and flashing, bear in mind that you have several different flashing options. Aluminum is one of the most popular, partly because it's inexpensive and easy to form. However, it will degrade from certain roofing treatments, especially those used for wooden shake shingles.
Copper and lead-coated copper are some of the most durable flashing materials available, and these work with shake shingle roofs. They're harder to form than aluminum, too, so labor costs may be higher with these options. Pure lead flashing is also an option, and masons tend to prefer it for around chimneys. It can have health and environmental risks, though, so this is worth considering.
Two other inexpensive options include galvanized steel and PVC. Both are easy to work with, but galvanized steel isn't very durable. If you go with this option, expect to replace it in just a few years, at most. PVC may not look as nice in areas where it can be seen, but it's also easy to work with and not affected by roof treatment chemicals.
Finally, the newest option in the game is a tar-like material with a sticky backing. You can actually cut it with scissors or a knife, and use it like regular flashing. This should be used with a second layer of metal flashing, however. It'll add extra protection, but it won't stand up under sunlight and wind for long at all. If you want to add extra protection to your roof's vulnerable spots, ask your roofer about using this type of flashing underneath a more traditional metal option.
If you have any questions, be sure to reach out to Luke Roofing. A long-established Orange County roofer, we provide prompt, reliable expertise for every residential roofing need and situation. Wherever and whenever you need roofing services in Lake Forest or anywhere else in OC, you definitely can count on Luke Roofing.