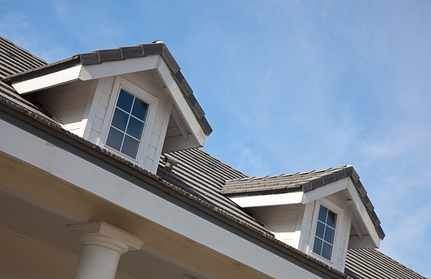 No homeowner likes to hear that they need a new roof. Roofs, after all, are expensive. So it can be tempting to skimp on roofing costs. A little here. A little there. What can it hurt?
So you use less expensive materials, or hire a contractor at a cut rate. What difference does that really make, in the long run? This is especially tempting if you're not planning to stay in the home for more than a few years anyway. You'll never see the return on investment for a more expensive roof, or so you think.
But when it comes to roofing, it's one of the biggest and most important investments that you'll make in your home. After all, a roof is what protects and covers the rest of your home, which makes it a pretty important part of the whole.
So what are some concrete reasons you should look at your roof as an investment? Here are just four:
The value of your home. If you've ever shopped for a home before, you know that one of the first things to look at is the roof. How old is it? Is it in good repair? Roofing can make or break a home inspection, and a newer, better-looking roof can seriously add to the overall value of the house.
Besides this, the right roof can add some serious curb appeal to your home. And everyone knows that if your goal is to sell, how your home looks from the street is essential. You might be able to save money with lower-grade materials, but if paying more will improve the look of your home, your value could go up.
The performance of the roof. If you're hiring the best Orange County roofing contractors to replace or repair your roof, ask about the performance of different types of materials. Better materials cost more up front, but they can save you in the long run. For instance, better shingles will last longer and hold up to more weather wear and tear than cheaper options.
Even higher-quality materials like clay tile roofing can save you money in the long run. For instance, clay tile can cut down on your summer energy spending by keeping your home cooler all summer long.
The warranty on the roof. If you're planning to install an all new roof, be sure to ask about warranties. The best Orange County roofers will offer long-term warranties for high-quality materials. To do that, they've likely had to send their people through training in order to be able to offer warranties through the company who makes the materials.
For instance, CertainTeed, a manufacturer of high-quality asphalt shingles, requires that contractors be certified through their training programs in order to offer warranties. Whether you're planning to stay in your home or sell, a long-term warranty on your roof is a great way to buy some peace of mind.
The return on investment. For all of the reasons listed above, you can get a great return on your investment when you really put some thought and extra cash into the right roof. Roofs are one of the highest ROI projects you can do to add value to your home. If the roof is leaking, buyers aren't buying. So knowing that you've invested in high-quality materials and a great contractor to do the work can really push some buyers to consider your home above others in the neighborhood.
So whether you're looking at a minor repair, or a complete roofing replacement, look at your roof as an investment. You still don't have to dump loads of money into it. Shop around, find the best Orange County roofing contractor, and go from there. Figure out where you'll get the most value for your money, whether that's through a brand new slate roof or a low-key asphalt shingle repair.
But as you're making these decisions about your roof, remember that this is an important investment in your home in general. A good roof ensures that your home not only stays dry, but also stays comfortable in a climate-controlled environment. A great roofing contractor will offer excellently-done work and warranties. These will all be worth your while in the long run as a homeowner.
If you have any questions, be sure to reach out to Luke Roofing. A long-established Orange County roofer, we provide prompt, reliable expertise for every residential roofing need and situation. Wherever and whenever you need roofing services in Fountain Valley or anywhere else in OC, you definitely can count on Luke Roofing.