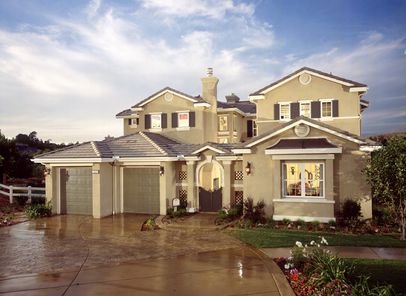 Most of the time, homeowners think of their home's roof as nothing more than a utility. It's just something that has to be replaced once in a while to be functional. But depending on your roofline, your roof could account for nearly half of what people see when they walk or drive past your home. That's some serious real estate for the eyes, and you want to be sure that it looks great!
Luckily, adding curb appeal with a new roof isn't that difficult, especially with all of the options on the market today. Here are a few ideas for updating your roof to create more curb appeal:
Go for color. If your home is a slightly bland color, consider adding a pop to the roof. You don't have to go as wild as a red tin roof, but you can add some appeal to your home with a more colorful roof. Many of today's manufacturers are making asphalt shingles in a variety of colors, from subtle to quite bold. Check out home magazines and blogs to get an idea of what sorts of colors would look good with your home's exterior, and don't be afraid to take a leap.
Consider patterns. Even affordable shingle roofs can look upscale with a pattern involved. Again, the colors for asphalt shingles can be quite subtle, so you could do a very subtle pattern. Or you could do something bolder and more intricate. Talk to the best Orange County roofing contractors about the cost and layout of such a pattern, as you want to be sure that it fits both your budget and the needs of your particular home.
Look into textures. You can change the texture of your roof in a number of ways. Use different types of shingles, or a different material altogether Subtle patterns can look like a textural change, even if the materials are the same. Texture is just one more way to add to your home's overall curb appeal.
Upgrade materials. One of the easiest ways to instantly make your home look like it's worth more money is to go with a more expensive roof. Instead of asphalt shingles, go with clay or concrete tiles. Instead of tiles, go for slate. Not only do these more expensive materials give your home a classier look, but they also last longer - up to 100 years or more in some cases!
Clean and repair. If your roof doesn't need replaced but is simply looking a little worn around the edges, call an Orange County roofing contractor for repair and cleaning work. This is an easy task to hire out, and you'd be surprised at how big a difference it can make. While you're at it, consider having your siding and outside windows cleaned, too. A sparkling finish will definitely add to your home's curb appeal!
Don't forget the gutters. Some Orange County roofing contractors will also take care of your gutters. Others will be able to recommend a reliable gutter specialist. But either way, if your gutters are clogged or in disrepair, your great roof won't make much of a difference. Get the gutters taken care of along with the roof for a real boost to your curb appeal.
Keep it in line with your style. When you're thinking through all these changes, it's important to think about not just what you like but also the style of your home. For instance, a mission style home is made for clay tile, but clay tile doesn't look great on all types of homes. Your home will look better from the outside when the style of the roof matches the overall look and feel of your home.
Lots of people will tell you that curb appeal is all about your landscaping. And landscaping is important and can make a huge difference. But instead of starting from the bottom and working your way up, start at the top of your home and work your way down. Replacing or repairing your roof can make a huge difference when it comes to your home's overall curb appeal.
If you have any questions, be sure to reach out to Luke Roofing. A long-established Orange County roofer, we provide prompt, reliable expertise for every residential roofing need and situation. Wherever and whenever you need roofing services in Fullerton or anywhere else in OC, you definitely can count on Luke Roofing.