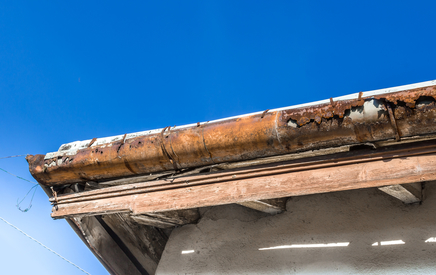 5 Things to Know About Your Roof Rain Gutters by an Orange County Roofing Professional
If you're working with an Orange County roofing contractor to repair or replace your roof, you may consider having your contractor check out your gutters, as well. Though you might assume they're in great shape, new gutters can work wonders for the efficacy of your roof and the overall look and feel of your home.
When it comes to gutters, most homeowners don't think about them until something is going terribly wrong--like they're starting to fall off the house. But the right gutters can protect your home during a deluge, and can even add to the overall style of your home.
Not sure what options are available for your gutters? Here are five things you need to know about them:
1.They come in two basic styles.
Although gutters come in a wide variety of looks, there are really two basic types: half-round and K-style. Half-round gutters are just what they sound like, half a cylinder, usually with a lip on the front. These are most often found on historic homes, but they can help you add a touch of whimsy to your new construction home, too.
K-style gutters are flat on the back, the section that goes against the house, and typically have a decorative moulding on the front. They look a lot like crown moulding that you'd use inside your home. As you might guess, the more decorative and wide the front piece of the gutter, the more you'll pay. But properly decorative gutters can really add to your home's curb appeal. Typically, K-style gutters have more capacity, which we'll talk over in a moment.
2.They're available in a variety of materials.
Besides styles, gutters come in a variety of materials. Ask your Orange County roofer which materials they work with. Commonly available materials include:
Aluminum: This is the most commonly-used material. It's lightweight and easy to install, and it won't rust. Plus, you can paint it so that your gutters add a pop of personality to your home. Aluminum gutters can come in sections, or can be made seamless, which makes for fewer leaks.
Copper: This metal doesn't need painted and won't rust. It's commonly found on historic homes, and will wear to a beautiful patina over time. It's more complicated to install because sections have to be welded together.
Steel: Galvanized steel can rust over time, but can be painted for a pop of color. They can be pricey, and are difficult to install because of the weight of the metal.
Vinyl: These gutters are very inexpensive and lightweight, but they do tend to fade over time because of UV exposure. Plus, you can't put a ladder against a vinyl gutter to get onto your roof.
Zinc: This is similar to copper in that it's good for high-end homes and historic homes. It's very expensive, but lasts for a long time and doesn't need painted. Like copper, it will take on a beautiful patina over time.
3.Installation costs vary by material and type.
The cost of materials, of course, varies widely, but so does the cost of installation. Even DIYers can often learn to install vinyl or aluminum gutters, and they're more affordable to have installed professionally, too. Gutter options that require welding, including copper and zinc, are more expensive to install.
One middle-of-the-road option that many homeowners choose is seamless aluminum. These gutters are actually created as they're installed, so that there aren't any breaks or seams on long runs of roofline. This is great because the gutters hold up better over time, and are less likely to leak in awkward places. Seamless aluminum is slightly more expensive than regular aluminum to install, but it's still an affordable option.
4.Wider is better, up to a point.
When you're shopping for gutters, you'll note that they come in different widths or capacities. The bigger your gutters, the bigger the capacity. Five and six inch gutters are appropriate for most homes in most areas of the country, and smaller gutters can also work well here in Southern California where continuous, hard rain is a rarity.
Moving to a six-inch gutter can protect you from an intermittent deluge by directing more water appropriately, rather than having it spill out the sides of the gutters. But these gutters also cost more. Talk to your local roofing contractor about the best options for your area to get an idea of which size works best for your home.
5.Don't forget about the downspouts.
Downspouts are just as important a part of your gutter system as the gutters themselves. Typically, homeowners will choose downspouts of the same material and in the same style as their gutters, though this isn't always the case. You can get round or square downspouts, or even pay a premium for fancy styles like spiral shapes.
Your roofing contractor will be able to measure how many downspouts your home needs to function efficiently. Remember, as well, that you can build a rain barrel using one or more downspouts on your home, if you're interested in saving water for watering your garden or lawn in the future.
If you have any questions, be sure to reach out to Luke Roofing. A long-established Orange County roofer, we provide prompt, reliable expertise for every residential roofing need and situation. Wherever and whenever you need roofing services in Los Alamitos or anywhere else in OC, you definitely can count on Luke Roofing.