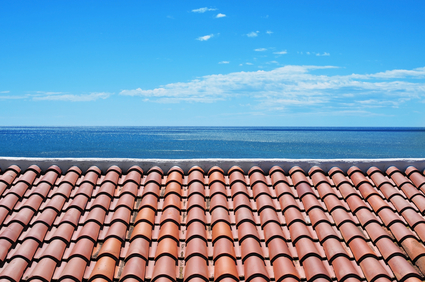 There's a reason that clay tile roofs are some of the most popular options here in Southern California: they're very energy efficient. These roofs are energy-efficient in both cold and warm climates, but they're particularly well-suited to the hot SoCal air. Here's why you might want to talk to a roofing company in Orange County about this roofing option:
Extra air makes for a cooler roof
The main reason that tile roof of any sort is cooler for your home or business is that it traps air. The curved tiles don't sit right on the roofing underlayment. This means that air gets caught in between. And air is a surprisingly good insulator. It keeps heat from conducting from the tiles themselves to the interior of your home, which keeps the roof cooler.
Opt for cooler colors
While traditional tile roofs are red, they don't all come in that color these days. Today, you can get clay or concrete tiles in a variety of colors, including cooler colors. These cooler colors - like light gray or even white - reflect the sun's rays.
This means that they don't become as hot to begin with. The kinds of tiles installed by your roofing company in Orange County are dyed before being kiln-dried, so the color doesn't fade over time. You can count on your clay or concrete tiles to keep your home cool.
Up to 70% cooler than asphalt
If you've ever accidentally stepped barefoot onto asphalt that's been baking under a summer sun, you know that asphalt gets hot. And since there's no air barrier between an asphalt shingle and the roofing underlayment beneath, much of that heat transfers directly into your home. With clay tiles, though, you can reduce the heat entering the home by up to 70%. This is even better when you're using cool-colored clay tiles, which may not even get hot to the touch, let alone conduct tons of heat into your home.
They're more eco-friendly, too
Not only are clay and concrete tile roofs more energy efficient when they're installed in your home, but they're also more eco-friendly and energy efficient to create, too. These roofs are made to last, and they'll last 50+ years under normal conditions. Since you're replacing your roof less often than with asphalt, you'll waste less energy on manufacturing and installing roofing materials.
If you're interested in saving more money on your heating bills, and you're considering replacing your roof anyway, consult with a roofing company in Orange County who are licensed to install the top clay and concrete tile brands around. They'll be able to talk to you about all the ins and outs of tile roofs, and will get you a solid estimate on what this kind of roof will cost up front.
Yes, tile roofs are more expensive than asphalt. But they'll save you money on every energy bill, and make your home a more comfortable place to live.
How To Install
Even if you've done some work on your own asphalt shingle roof in the past, that's not the same thing as installing or working on a tile roof. These roofs are more complicated to install - especially to install correctly. So you're definitely going to want to bring in the professionals for this one.
Most roofing companies in Orange County do install tile roofs of some sort. But you want to be sure that the roofing company you work with is licensed to use the highest-quality tile on the market. This is especially true if you're opting for a non-traditional color. You'll want to ensure the tile your roofers use is dyed with a special process that leaves it fade-resistant. Otherwise, you'll wind up with faded colors in the near future.
When you're choosing tile roofing, talk with your roofing company in Orange County about the options available to you. Chances are that the company you choose will work with different types of tile, which will offer different levels of quality for your roof. You'll want to get all the details on each option before you decide which clay tile to work with.
But the bottom line here is any time you switch from asphalt shingles to clay or concrete tiles, you'll save energy. If your goal in 2015 is to reduce your energy bills and environmental footprint, talk with roofing companies in Orange County today about switching to a clay tile roof.
If you have any questions, be sure to reach out to Luke Roofing. A long-established Orange County roofer, we provide prompt, reliable expertise for every residential roofing need and situation. Wherever and whenever you need roofing services in Rancho Santa Margarita or anywhere else in OC, you definitely can count on Luke Roofing.