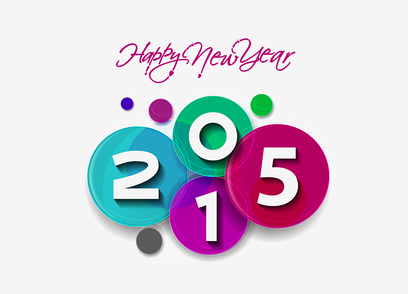 Orange County Roofing Company
Want to resolve something besides "lose weight" and "pay off debt" this New Year? In 2015, make some New Year's Resolutions for your roof. These five resolutions can save you money in the long run by keeping your roof in great condition. Here are five resolutions SoCal residents should make about their roofs:
1. Install a clay tile roof
There's a reason clay tile roofs are ubiquitous in the Southern California area: they're incredibly energy efficient. The curve of the clay tiles creates a space for air between the tile and the roof. This air space creates a natural thermal barrier, so that less heat transfers from the roof tiles to the inside of the home.
When less heat transfers into your home, it makes your home easier and more affordable to cool. So check with your local Orange County roofing company to get a quote for installing a clay tile roof in 2015.
2. Budget for maintenance
All too often, homeowners fail to budget for maintenance in many areas of the home. Maybe your roof needs cleaned and a few tiles or shingles need replaced. Maybe you need to clean up the gutters, or replace some caulk around your chimney. This is the type of maintenance that you should do on a regular basis, rather than leaving it until the roof is literally falling apart.
So this year, talk to some roofing companies in Orange County to get an idea of how much these small repairs would cost. Then, work them into the budget for 2015.
3. Learn how to do DIY maintenance
While roofing companies don't recommend that homeowners do all home maintenance tasks, learning how to do basic roofing maintenance is important. This may include power washing your roof, cleaning out the gutters, and simply checking the roof and the attic for potential problems on a regular basis.
Curious about what you should be doing to maintain your roof regularly? Check out our other blog posts on this topic.
4. Add insulation
One thing you can do to save energy in the new year is to add insulation to your attic. You might think that insulation is best for cold climates, but this isn't the case. Extra insulation in your home's attic space can keep the heat out, just as well as it would keep the cold out. It'll also ensure that your conditioned summer air doesn't flow right out your home's roof.
While your Orange County roofers may not deal with insulation, they can probably recommend a contractor who does.
5. Schedule an inspection
Right now may not be the ideal time to have a roof inspection done, while you're recovering from holiday craziness. But go ahead and get one on the schedule. Aim to schedule a full inspection for your home's or business's roof at least once per year, and budget to cover any minor maintenance projects that the inspection brings up.
Talk with Orange County roofing companies about scheduling an inspection within the next few months.
So while you're making your personal improvement New Years Resolutions this year, start thinking about how to improve your home right along with that.
If you have any questions, be sure to reach out to Luke Roofing. A long-established Orange County roofer, we provide prompt, reliable expertise for every residential roofing need and situation. Wherever and whenever you need roofing services in San Juan Capistrano or anywhere else in OC, you definitely can count on Luke Roofing.