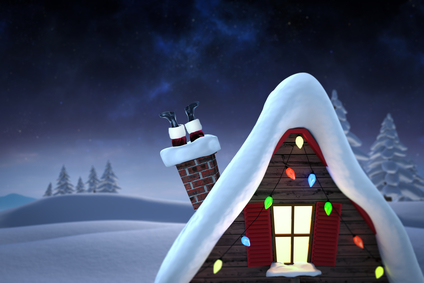 Whether you're replacing or renovating your roof, you might be ready for some upgrades. Roofing upgrades, when installed by a licensed Orange County roofing contractor, can not only add to the value of your home, but also make it more comfortable and energy-efficient. And we don't just mean spending thousands moving from asphalt shingles to clay tiles. You can actually take smaller steps to upgrade your roof, including these five options:
1.Improve the ventilation
One of the best ways to improve the overall efficiency of your home, especially in warm climates like ours, is to improve the ventilation in your roof. Proper roof ventilation allows heat to escape out of the roof, rather than collecting in your attic and slowly warming the floors below it.
All too often, roofs aren't properly ventilated when a home is built. This causes the attic to act as a furnace when the weather is warm, adding to your cooling costs. To keep your attic cooler, as your Orange County roofer to add soffit vents. These vents go in the soffits under the eaves, and draw cooler air into the attic. Then a vent in the top of the roof allows hot air at the peak to escape. This ensures airflow through the attic, keeping it at a cooler temperature when the weather gets hot.
2.Add insulation
Another option for adding to the efficiency of your home is to add insulation to your roof or attic. The easiest option here is blown-in insulation - a thick layer of the stuff on the attic floor. Talk to your roofer about other possible ways to add insulation that will keep the attic's heat from warming up the rest of the house.
One possible caveat here: make sure the insulation doesn't negate your ventilation efforts. You may need to use shields or ducts to hold back the insulation around vents, so that it doesn't block up the vents and render them useless.
3.Opt for lower-maintenance gutters
If you're replacing your roof, why not go ahead and look at the gutters, as well? If your existing gutters aren't properly aligned or just need a color change and upgrade, opt for a lower-maintenance option. The latest gutters include built-in hoots, which make them practically maintenance-free. With hoods to keep debris out of the gutters, you won't have to worry about cleaning out your gutters a few times a year.
4.Reflect the sun
In sunny SoCal, one of the best choices you can make is a roof that reflects the sun. Reflective options include galvanized metal and light-colored roofing shingles. These materials bounce the sun's light back away from your home, helping to keep it cool.
There are a myriad of high-efficiency sun-reflecting options on the market today. Talk to your Orange County roofing professional about the options available for your particular roof. This can be one more step to keep your home cool in the hot summers, which can, in turn, add value to your home as a whole.
5.Add some texture
What if you're looking for a visual upgrade that will boost your home's curb appeal? The easiest way to achieve this goal with your roof is to move from a flat surface - like a traditional shingle roof - to a surface with some interesting texture. Again, there are plenty of options that will achieve this goal.
One of the more affordable ways to add texture to your roof is with architectural shingles. These shingles come in varying shades, making it look like your roof is tiled or has another interesting texture. Concrete and clay tiles are another popular option, especially with many of the homes in the Orange County area, which lend themselves well to traditional-looking clay roofs.
Which of these options should you consider when maintaining or upgrading your roof? Some, like proper ventilation and adequate insulation, should be high-priority. These relatively inexpensive upgrades will leave your home much cooler and more efficient, saving you money over time.
Other options that include new roofing materials altogether are much more expensive. Generally, you'll likely want to wait until your roof actually needs replaced to make this investment. Though sometimes you'll get your money's worth by upgrading from cheap shingles to high-end tiles.
If you aren't sure which improvements will add the most to your home's overall value, talk to a local realtor about what home buyers are looking for in your area. Then, chat with your local roofing expert to determine which upgrades fit your needs and your budget.
If you have any questions, be sure to reach out to Luke Roofing. A long-established Orange County roofer, we provide prompt, reliable expertise for every residential roofing need and situation. Wherever and whenever you need roofing services in Surfside or anywhere else in OC, you definitely can count on Luke Roofing.