Choose The Right Roofing Company
If you're getting ready to drop a few grand on a new roof or roof repairs, you definitely need to be sure you're choosing the right roofer. The wrong Orange County roofer can spell disaster for your home. Repairs that don't hold up, fines from permits not pulled, or wildly off base estimates are just a few problems that might crop up.
So before you shell out cash for those Orange County roof repairs, be sure to thoroughly vet the roofing companies you're considering. Look for these five things as you do:
1. An education
You want to hire a roofer who has the time, inclination, and communication skills to really educate you on your roof. Roofing companies that can't - or won't - thoroughly answer all your questions are trouble.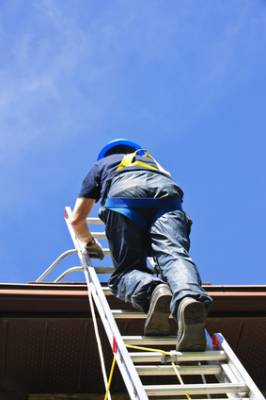 Also, you should feel like your roofer will educate you about different options for roofing materials or repairs - not just selling you on the most expensive solution. You should feel comfortable asking questions, and you should feel that your questions are taken seriously and answered well.
2. Written estimates
Don't ever accept a ballpark estimate before you begin repairs. The Orange County roofer in question should give you a thorough, written estimate. And if you're comparing estimates, be sure that you're making an apples-to-apples comparison. In other words, be sure each contractor quotes you for the same labor and materials as all the others.
3. Permits and insurance
Before choosing an Orange County roofer, you should always ensure that the company carries liability insurance and will pull all the proper permits.
If any of the Orange County roofing companies you're considering don't have their own insurance and a worker is injured on your property, you may get stuck with the bill. And if a city inspector drops by to see that you don't have the proper permits, you'll be the one stuck paying the fines.
4. Warranties
When getting quotes on roof repairs or a new roof, ask about warranties. It's typical for a roofing company to warranty their work for several years, at least - especially if they're using high-end materials. So ask about what warranties are in place, and talk to the company about how the warranty process works. What, exactly, happens if your roof starts leaking while it's still under warranty?
5. References
Obviously, you want to hire an Orange County roofer with a good reputation. So ask for third-party references, and call them. You can also check out sites like the Better Business Bureau and Angie's List for reviews and complaints.
An Orange County roofer with written estimates, proper insurance, good warranties, and excellent reviews is a company that you'll feel comfortable working with.
If you have any questions, be sure to reach out to Luke Roofing. A long-established Orange County roofer, we provide prompt, reliable expertise for every residential roofing need and situation. Wherever and whenever you need roofing services in Fountain Valley or anywhere else in OC, you definitely can count on Luke Roofing.