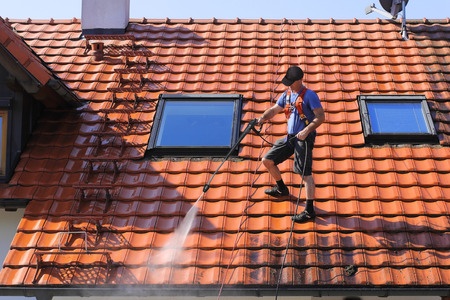 Part of maintaining your roof is actually keeping it clean, as odd as this might sound. But debris built up on your roof can cause some serious problems, from leaks to backed-up gutters. Just like you need to clean your gutters regularly, you'll also need to regularly clean your roof.
How often you'll need to clean your roof depends on a variety of factors, including the type of roofing material that's on your roof. Talk to your Orange County roofing contractor about whether or not your roof needs cleaned regularly.
If you can see debris
Built-up debris from tree leaves and other things on your roof can cause some serious problems. Debris can itself start rotting, which can cause certain roofing materials to do the same. But even if rot isn't a problem, debris can stain your roof, causing your property values to lower. Or debris can keep your roof from functioning as designed, since it can block the flow of water from your roof into your gutters.
Heavier debris, such as sticks, can also puncture your roofing materials, causing holes and leaks in the roof. Of course, this is a problem you want to avoid at all costs!
So if you can see significant amounts of debris on your roof, you'll definitely need to clean it this summer.
How to have your roof cleaned
The best place to start when cleaning your roof is with your Orange County roofing company. The company may actually offer cleaning services, depending on their areas of expertise. Or if they don't take care of the cleaning for you, professional roofers can refer you to professional roof cleaners, who can easily take care of your roof cleaning needs.
This is definitely a job you'll want to have a professional do, though you can do some limited roof cleaning on your own if you're comfortable with it. It's never recommended that you walk on your roof, as this is both dangerous and can cause damage to your roofing materials. But you may be able to pressure-wash some of the debris off your roof if you can reach it from the ground.
However, professionals will be able to do a more thorough job of cleaning your roof for you. They'll scrape off any debris, and then wash the roof to keep it free of moss and other buildup that can be a particular problem for California's signature clay tile roofs. Professionals will get your roof looking brand new, so that can actually help your curb appeal and make your home easier to sell if that's the direction you're leaning this summer.
Plus, professional roof cleaners will understand what to look for when it comes to repairs and minor issues that your roofer should take care of. If you can head off issues like cracked clay tiles or missing asphalt shingles early, you can often avoid large, expensive problems down the road. Ask your roof cleaning company to check the roof thoroughly for potential problems, so that you can have your roofing contractor out to do minor repairs before they become major repairs.
Even dark roofs need cleaning
Remember that roofs that are red or light-colored may be more obvious when they need cleaning. You can easily see streaks and debris on these roofs. But even dark asphalt roofs will need cleaning on a regular basis. For these roofs, the problem is with stains, which can happen when water isn't draining correctly or there's decaying debris on the roof.
It's easy for discoloration to happen on a dark roof, which can ruin your home's curb appeal before you know it. So even if you think you don't need to clean your dark roof because it doesn't look that dirty, cleaning it on the recommended schedule can make a difference in its long-term look and appeal. Keeping your roof stain-free will ensure you don't have to replace it as often, either, which saves you money in the long run.
This summer if you're not sure about cleaning your roof, talk to your trusted Orange County roofing contractors. They'll be able to tell you how often to clean your roof and who to have clean it. This one simple, and relatively inexpensive, step can save you serious money in the long run by keeping your roof in better shape for years to come.
If you have any questions, be sure to reach out to Luke Roofing. A long-established Orange County roofer in Santa Ana and surrounding areas, we provide prompt, reliable expertise for every residential roofing need and situation. Wherever and whenever you need roofing services in Corona Del Mar or anywhere else in OC, you definitely can count on Luke Roofing.