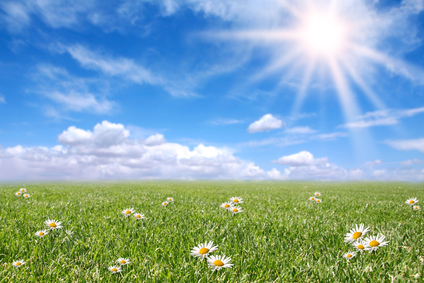 When an Orange County roofer takes part in roof repairs, the crew usually deals with common, ordinary leaks. Like it or not, leaks happen. And it's imperative to get them taken care of in order to prevent serious water damage. But in sunny Orange County, particularly during the blistering summer months, we Orange County roofers often deal with another rooftop enemy – the sun. Sure sunlight is necessary and beneficial in many cases. Nevertheless, too much of a good thing can and usually will cause problems. And that's certainly the case when harsh sunlight smacks your rooftop day after day during the balmy summer months.
Ask any commercial roofer about summer damage to rooftops, and they'll probably mention UV rays as the number one culprit. Yes, ultraviolet light can cause severe drying to a variety of roof surfaces, asphalt being the most vulnerable. Once the damage begins, huge cracks can spread across asphalt and other rooftop surfaces. What happens is this – UV rays oxidize the oils contained in various roof surfaces, causing brittleness and a loss of roof thickness. Ultimately, the severely strained material will weaken and crack. In essence, your once-beautiful roof is breaking down during the course of the relentlessly hot summer.
When you live in OC, your roof definitely is at risk for UV damage. You might be thinking -- if only rooftops could be protected by sunblock. Well, in a very real sense, they can. An Orange County roofer can treat your roof with a special coating that forms a reflective membrane on the surface and blocks harmful UV rays.
Perhaps you have a home in Anaheim, where temperatures can soar in the summer. In that case, you'd simply call an Anaheim roofer to get an estimate for the cost of coating services. Once everything meets your approval, the Anaheim roofing company will send a crew to your home to begin the coating process. It doesn't take long. And when it's done, you'll be able to relax and enjoy the summer free from worry.
If you have any questions about protecting your roof from sunlight, be sure to reach out to Luke Roofing. A long-established Orange County roofer, we provide prompt, reliable expertise for every need and situation. Whether you need roofing services in Anaheim or anywhere else in OC, you definitely can count on Luke Roofing.