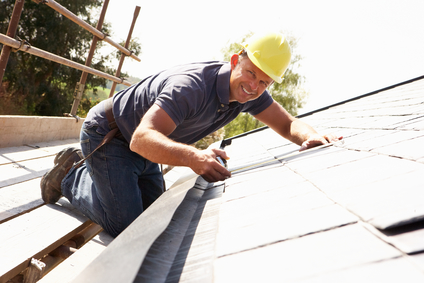 One function of an Orange County roofer, of course, is to install roofs. This job, however, requires more than laying down a few tiles. In fact, when an Orange County roofer installs a new roof, this professional must deal with a variety of components.
Whether a residential roofer or commercial roofer is on the job, these components remain fairly consistent. The first of them is the visible layer familiar to everyone, the roof covering. The material selected to cover and shield your rooftop is available in variety of styles and textures. The most common covering is shingles. Seen almost everywhere, these may be of the tile, slate, or metal variety. The choice depends on your personal preferences and objectives.
Naturally, your chosen roof covering requires support. In roofing circles, that support is known as sheathing. This foundation typically is a board made of a sturdy material such as plywood. An Orange County roofer connects this board to your rafters, thereby supporting shingles or other covering.
Sheathing, in turn, requires its own support. That's the job of rafters and trusses. The first of these, rafters, are beams that run from the eaves to the roof peak. Consider it the basic framework of a roof. Similar to rafters, trusses provide support in the form of posts and struts.
The final component an Orange County roofer deals with is flashing. This is critical for preventing water from seeping into your home during inclement weather. Typically constructed of sheet metal, flashing is installed into roof joints and valleys.
If you have any questions about what an Orange County roofer installs in a roofing system, be sure to reach out to Luke Roofing. A long-established Orange County roofer, we provide prompt, reliable expertise for every residential or commercial roofing need and situation. From roofing services in Fullerton to roofing services in Laguna Beach, Luke Roofing has Orange County covered.