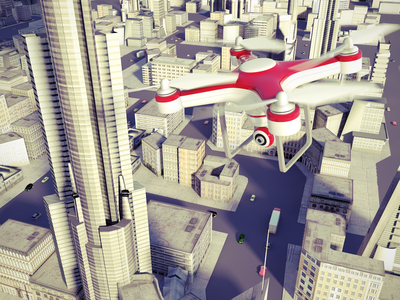 Technology is impacting virtually everything in the known galaxy. And that includes roofing. Because of technological innovation, more and more options are available to every Orange County roofer. New materials, new techniques, new eco-friendly processes. It's all coming together to lay the groundwork for exciting changes.
Consider, for instance, the value of something that's already been on the scene for years. That something is a small flying machine called the drone. Known for its ability to capture aerial videos and carry lightweight cargo, the agile drone can assist roofers in a big way. In fact, the flying miniatures already are helping certain professionals improve their service.
How can drones assist an Orange County roofing company? By providing extensive air-coverage. Equipped with a high-definition video camera, a drone can travel or hover virtually anywhere above the roofline. This territorial reach means that a drone can identify problems and hazardous zones from many critical vantage points.
Being an active and detail-conscious observer, the technology eliminates the need for professional intervention. Roofers can stay grounded, while the busy drone does the investigating. Ultimately, this assistance can save tons of time – and therefore reduce many billable hours.
Customers, too, will benefit from drone power – and their output of amazing high-resolution video and photos. These records provide a complete picture to detail-hungry homeowners and business owners. Nothing is hidden – all issues are revealed with mind-boggling crispness and flawless accuracy. The visual records naturally will trigger productive discussions between roofer and homeowner or business owner. Sound decisions likely will follow.
Are drones right for your home or business structure? Get the answer by asking your local professional. For instance, if you reside in or do business in Irvine, consult an Irvine roofer. The experience will be an invaluable eye-opener.
If you have questions about the impact of drones on the roofing profession, Luke Roofing can help. A long-established Orange County roofer, we provide prompt, reliable expertise for every residential roofing and commercial roofing need. No matter where you live in OC, you can count on Luke Roofing for reliable roofing solutions.