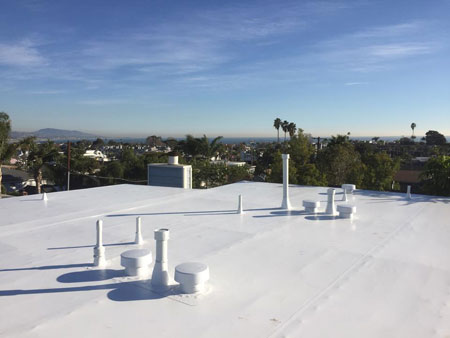 With the way that many commercial buildings are put together, roof leaks can be difficult to see. Proper maintenance and inspection can help you avoid roofing leaks or catch them early. But sometimes, they just happen.
Leaks tend to look a little different on commercial roofs than on residential roofs. And they're even harder to spot if no one regularly visits the attic of your commercial building. So it's important to understand and know how to look for signs of a leaky commercial roof. Here are the 5 most common signs and symptoms to be on the lookout for:
1.Bubbling: This sign is most relevant for flat roofs finished with a solid material. In this case, bubbles can be a sign of moisture trapped inside the roofing material. When these bubbles form, your roof will be more susceptible to wind-related damage. You usually can't see bubbling from the ground, so it's important to check for this particular sign regularly from the roof itself.
2.Tears: Similar to bubbling, this is one of those signs that is difficult to see, especially from the ground. During any visual inspection of your roofing system, look for small tears and cracks in the roofing material. These can be caused by rough weather, including extra dry and hot weather. Tears can allow water through the roofing materials, which can cause further problems down the road.
3.Damaged flashing: Flashing is the metal material that goes around the joins of a roof. When flashing is damaged, it will let water seep into your roofing, causing serious problems. Sometimes flashing can be damaged because of bad installation, but weather and time can also cause flashing to crack or warp. On some sections of your roof, flashing may be easy to see. On other sections, you'll need to get out a ladder and do a visual inspection of the flashing periodically.
4.Ponding: Areas of water collecting on your commercial facility's roof are a cause for concern. Ponding may not necessarily mean that your roof is already leaking. But it does mean that your drainage system isn't working properly. When ponding happens, the water can cause rot and cracking in the roof. If there's a lot of water, the weight can actually cause problems in the roofing deck. When ponding occurs, you'll definitely want to get your drainage system fixed, but you'll also want to have a professional Orange County roofing contractor examine the roof for additional damage.
5.Water in the attic: If your commercial facility has an attic, be sure to double check it for moisture once in a while. Moisture in the attic is a common telltale sign of leaking in the actual roofing material.
Any of these signs taken alone may or may not be a sign that your commercial facility's roof is damaged. When you see multiple signs, though, it's likely that you are--or soon will be--dealing with water damage in your building.
When you see any of these issues on your roof, have a professional Orange County roofing contractor out to do a more thorough inspection. In many cases, you'll find that an early inspection can catch issues before they become big problems. This can help you save money in the long run, even though an inspection and repair will cost some money up front.
Any time you're maintaining a building, especially a commercial building, it's important not to assume that your roof is in great condition just because there are no obvious leaks pouring in if and when it rains. This is why it's important to have your roof regularly inspected.
In fact, your best bet is to contract with the best roofing contractor in Orange County to inspect your roof once or twice per year, depending on your facility and the type of roof it has. Regular inspection will note signs and symptoms like these, and will ensure that your roof stays in great shape for years to come.
This kind of inspection and regular maintenance may save you thousands by preventing the need to replace your commercial facility's roof. However, if you let these problems go long enough, or if your commercial roof is very old, you may need to have it replaced at some point. In this case, you'll want to have the best commercial roofing company to do the job.
If you have any questions, be sure to reach out to Luke Roofing. A long-established Orange County roofer, we provide prompt, reliable expertise for every residential roofing need and situation. Wherever and whenever you need roofing services in Newport Coast and anywhere else in OC, you definitely can count on Luke Roofing.