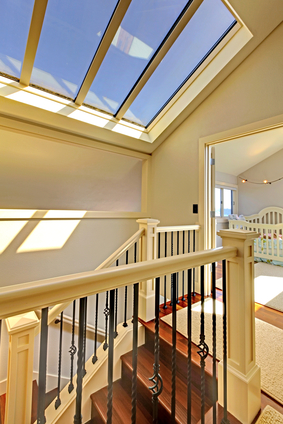 Are you considering a skylight for your home? Good choice. This addition adds both aesthetic and practical value to your property. Selecting the right skylight, however, is no easy matter. Given the challenges, it's best to secure the assistance of a qualified Orange County roofer. Backed by knowledge and experience, this professional can determine which type of skylight is best for you.
In arriving at a recommendation, a contractor will evaluate many variables. Among these are a prospective skylight's ventilation capabilities, strength against elements such as wind, durability, and energy-efficiency. All of these are crucial, and all are part of the evaluation process that unfolds when Orange County roofers contemplate skylight installation.
But the evaluation doesn't end with this list of variables. An Orange County roofing company also must weigh other important factors. For instance, it's imperative that the team also take a long look at the roof itself. Is a flat skylight suitable for your roof type? Perhaps a 'sun tunnel' skylight is more appropriate. The possibilities abound. All must be carefully considered by a roofing professional before any determinations can be make. In the end, this detailed examination will ensure the best and most appropriate skylight is selected for your home.
The good news is, no matter what an evaluation's results, you'll likely have many available choices. That's because in general, skylights are suitable for a variety of roofing materials and shapes. Which leaves open many possibilities.
The real trick is determining the optimum choice for you. Which is why you want a professional in your corner during the selection process. Begin by asking a local expert some preliminary questions. Maybe you reside in Newport Beach. OK, reach out to a Newport Beach roofer for advice. You'll be so glad for the enlightenment.
If you have questions about getting a skylight for your home, Luke Roofing can help. A long-established Orange County roofer, we provide prompt, reliable expertise for every residential roofing and commercial roofing need. No matter where you live in OC, you can count on Luke Roofing for reliable roofing solutions.