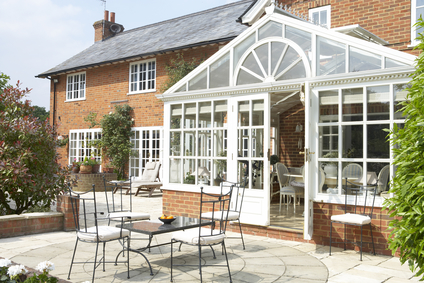 When an Orange County roofer installs an asphalt shingle roof, you can expect an ordinary layering of gray material. Nothing special; just a functional cover that keeps the rain and other elements at bay. Well, that might be the impression asphalt left in the past. But today, the material is making quite a different mark. And the mark is much more exciting than most people could have imagined. In the option-filled, contemporary world, asphalt shingles are available in a variety of styles. Not just the same old, same old. So, no matter what your taste or temperament, chances are better than excellent that you'll find something in the asphalt category to tickle your fancy.
Basically, an Orange County roofing company can enhance your roof with three different asphalt options, in addition to the garden variety single shingle. The first of these is the strip shingle, or as it is otherwise known – the three-tab shingle. The numerical designation is very apt. Each of these shingle strips consists of three tabs that mimic the look of separate shingles. Three shingles in one describes this to a tee.
The laminated shingle has a 'three-dimensional' look, being available in different thickness levels. This is one of the most aesthetically-appealing in the asphalt shingle category. Perhaps you have a stylish home in an Orange County city such as Rancho Santa Margarita. In that case, you may want to consult with a Rancho Santa Margarita roofer about improving your home's visual appeal with laminated shingles.
Interlocking shingles are interconnected for strength and stability. If the wind howls long and strong in your neck of the woods, they can stand up to blows with great success.
If you have questions about asphalt shingle styles, be sure to reach out to Luke Roofing. A long-established Orange County roofer, we provide prompt, reliable expertise for every residential roofing and commercial roofing need. No matter where you live in OC, you can count on Luke Roofing for the most efficient, reliable roofing solutions.