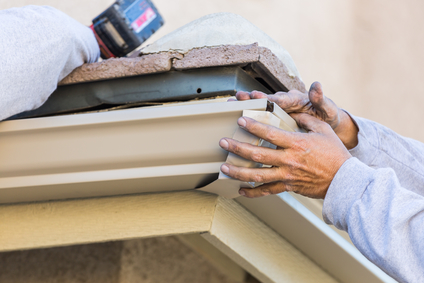 Rain gutters are a common fixture in all climates and communities. More and more homeowners, however, are realizing the truth: these rain troughs simply aren't enough. Additional protection is needed. And so, many people are improving gutter performance with 'gutter guards.' These can be installed easily by a qualified Orange County roofer. Don' worry. Installation generally isn't a long, drawn-out process. When the job is done, the results will speak for themselves. Just wait for the next big rain.
So, what exactly are gutter guards and what do they do? Basically, a guard is an aluminum or mesh strip. Orange County roofers install these strips over gutter channels, creating a kind of wall. The wall's job is simple – prevent leaves and other debris from dropping into gutters and thereby clogging water channels. They typically work like a charm.
With fewer leaves to deal with, homeowners immediately gain two key advantages. First, they'll be on gutter-cleaning duty far less often. And second, the number of gutter clogs will decrease considerably. In fact, there may not be any.
Additionally, the guards minimize rust risk. They accomplish this by preventing the intrusion of wet leaves and other foreign matter, which often accelerate the rusting process. Clearly, when an Orange County roofing company installs gutter guards, they provide protection on many levels.
While the rainy season is over (for the most part), it's never too early to think about future rain gutter performance. If you want to feel fully prepared, reach out to a local professional for more info. Maybe you live in Aliso Viejo. OK, simply consult an Aliso Viejo roofer about gutter guards. An investment of time that will pay off handsomely during the next rainy season.
If you have questions about rain gutter guards, Luke Roofing can help. A long-established Orange County roofer, we provide prompt, reliable expertise for every residential roofing and commercial roofing need. No matter where you live in OC, you can count on Luke Roofing for reliable roofing solutions.