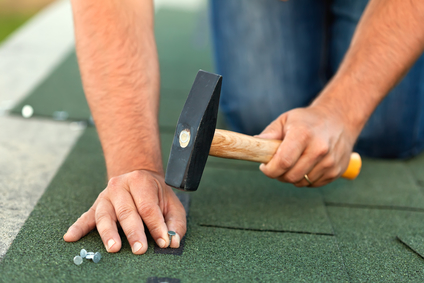 When people look at a roof, they generally see the finished product – a beautiful arrangement of shingles covering the upper portion of a home. But before an Orange County roofer installs this surface layer of asphalt or other materials, a professional must set down an important foundation. This foundation is called roof decking. Usually made of plywood or some composite thereof, roof decking is the sturdy layer that covers the upper frame of a home, like a massive sheet of wood. Once installed, it lies over the rafters, where it forms a base to support the soon-to-be installed shingles.
No matter how sturdy, roof decking is not invulnerable to damage. What type of damage might occur? Orange County roofers often see water as a primary culprit. During the rainy season, water may infiltrate worn shingles and spill out of clogged gutters, finding its way to the wooden roof decking. As a result, the moistened wood may deteriorate and promote the development of mold. Additionally, the deteriorated wood often will weaken the overall strength of the deck. Once the damage occurs, there's no turning back. A roof replacement will be necessary – repairs won't do the trick.
As a precautionary step, homeowners should look for signs of deteriorated roof decking. Some of the most common are water stains visible on the ceiling or on attic rafters, as well as a bowed section of ceiling. If you notice these or any other suspect signs, schedule an inspection with a qualified Orange County roofing company. And even if you don't notice evidence of this problem, you may desire more information about the topic. To satisfy your curiosity, share your questions and concerns with a local provider. You may, for instance, reside in Laguna Hills. In that case, just contact a Laguna Hills roofer for more information. What could be simpler?
If you have questions about roof decking, Luke Roofing can help. A long-established Orange County roofer, we provide prompt, reliable expertise for every residential roofing and commercial roofing need. No matter where you live in OC, you can count on Luke Roofing for reliable roofing solutions.