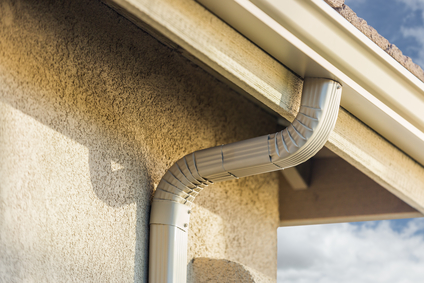 With rainy weather here, many an Orange County roofer will be tackling common seasonal problems. Leaks, for instance. Yes, it's that leaky time of year. But remember, these water intrusions would be far more prevalent if it weren't for the simple system needed by every home – the rain gutter system. Typically made of aluminum, gutters re-route rainwater and send it harmlessly to the ground. Don't expect water to roll off the roof on its own. Without gutters, a substantial amount of rain would accumulate on the rooftop and potentially leak into your home.
Not surprisingly, rain gutter installation keeps Orange County roofers admirably busy. During the installation process, the gutter system is set up in two basic sections. The first is the gutter itself, a metal channel running along the eaves of your roof. It may be installed in other critical zones, too. The other section is the downspout. Positioned vertically along a home's exterior, the downspout is a closed channel that sends water from gutter to the ground. Most of us have seen rainwater rushing from an opening near the bottom of a home. That would be the downspout.
Given the importance of a gutter system, it behooves homeowners to make sure theirs are functioning properly. Conduct periodic inspections of these vital channels. Or, if you're not up to the task, select a qualified Orange County roofing company to do the job. What you'll be looking for are leaves and other debris that might obstruct water flow, as well as cracks and other damage.
Don't just guess about rain gutters. Get the full story from a local professional. For instance, if you reside in Dana Point, reach out to a Dana Point roofer for answers to your questions. It's a great way to be educated about this simple but very effective protection for your home.
If you have questions about rain gutters, Luke Roofing can help. A long-established Orange County roofer, we provide prompt, reliable expertise for every residential roofing and commercial roofing need. No matter where you live in OC, you can count on Luke Roofing for reliable roofing solutions.